At NS Insurance, we help Green Bay area business owners and risk managers "Win" the insurance game by focusing not just on the cost of insurance premiums, but your Total Cost of Risk.
Our  process allows your business to cut costs and free up cash flow while maintaining the insurance coverages you need to sustain your business.
You have enough on your mind without having to worry about your insurance and risk management needs. You want to have the confidence that the business you're building is covered by a company that understands your unique business insurance needs.
Commercial business insurance products provide wide-ranging protection for businesses and their subsidiaries. There are various types of business insurance that take care of property insurance, liability insurance, workers' compensation, commercial auto insurance, to name a few. While property insurance covers damages to business property and products stored within the premises; liability insurance provides coverage for damages to third parties; and workers' compensation insurance covers injuries to employees.
Having good commercial insurance and proactive risk management are important aspects of any business to help reduce total costs and maximize profits.
Whatever your commercial insurance needs, we can design a program that's right for you and your business.
Here's some of our specialty business insurance products at NS Insurance:
---
NS:  More Than Just Business Insurance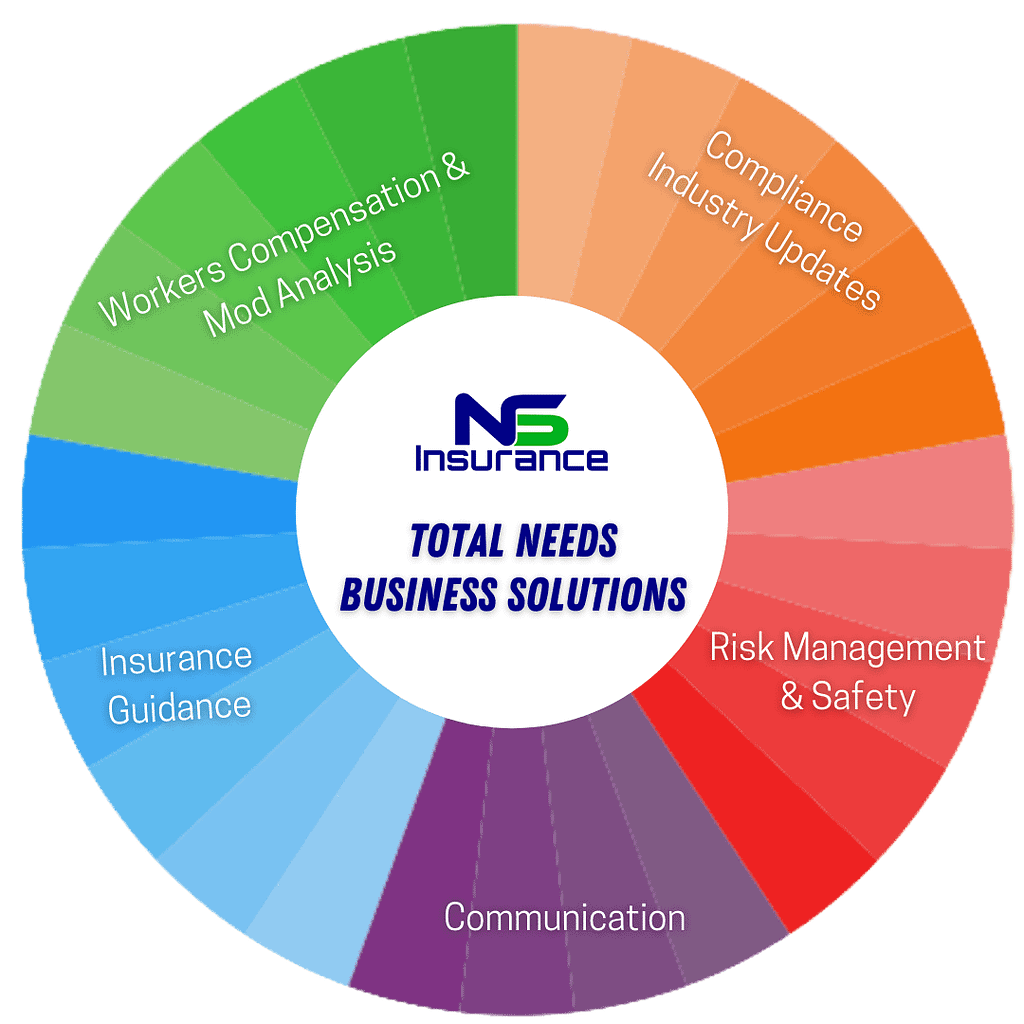 Did you know general requirement OSHA fines average $2,200 per fine and over $6 million per year?
Are you getting help getting or updating your employee handbook? What about implementing policies likea Return to Work-Light Duty and Distracted Driving program? Who supports your Human Resources needs?
These are important risk management strategies to use in your business. Not only do these strategies help you reduce your chances of having a loss, they will also help your business qualify for optimal pricing from commercial insurance carriers for the long run.
Most insurance agents and brokers talk about traditional offerings focused on bottom line insurance pricing, claims, and renewals. Some may even provide technology services focused on the pains of HR.
However, those agents and brokers seem to ignore crucial areas like OSHA compliance, on-the-job injuries and emerging exposures like cyber attacks, pandemic related coverages, errors and omissions coverage, and so many more (including the strategies listed above).
Expect more from an insurance agent or insurance policy.
Expect Total Needs Business Solutions.
We understand the challenges today's businesses face, and we know you're asked to take on more than ever. You can expect more from us with the full spectrum of solutions we provide far beyond the traditional business insurance offerings.
Too often you are forced to struggle through the insurance buying process. You are left confused; questioning whether or not your time and money were spent well or wasted.
This is different.
NS Insurance is a top-rated independent insurance agency headquartered in Green Bay, Wisconsin. We offer customized insurance and risk wellness solutions for small to mid-sized businesses. We also offer total needs personal lines insurance which includes homeowners insurance, auto insurance, boats and toys, life insurance, health insurance, employee benefits, and of course, business insurance. Ask about bundling!
Contact Us today for a free consultation.
---