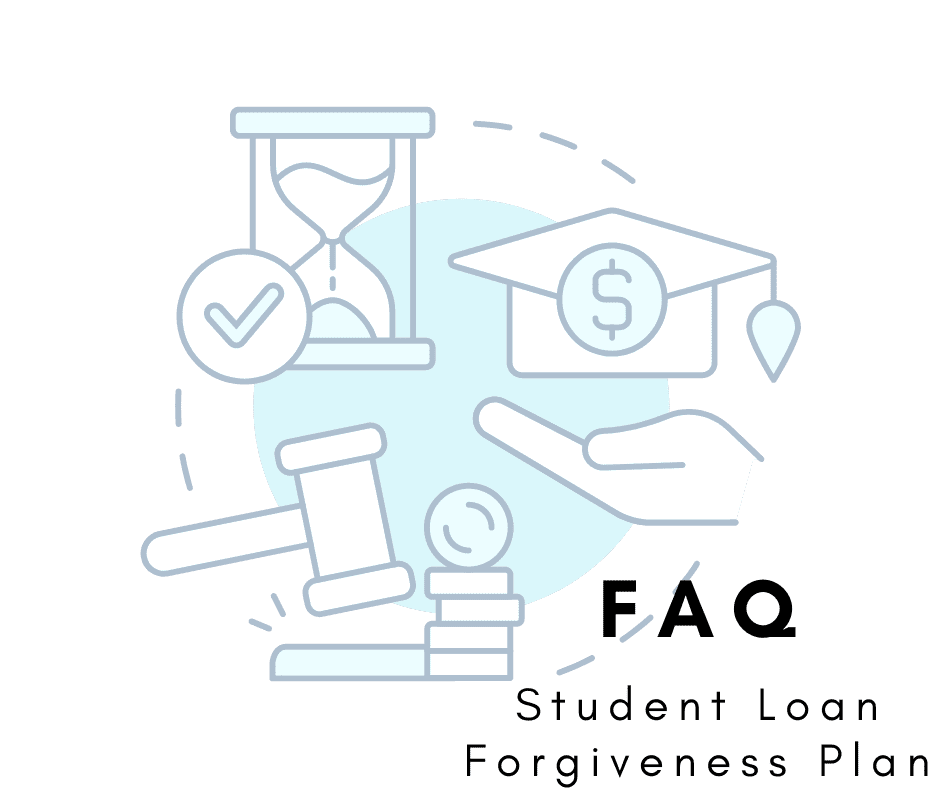 The Biden Administration recently announced a plan to cancel up to $10,000 in federal student loan debt, or up to $20,000 in some cases, for qualifying borrowers. According to the Department of Education (DOE), the plan also extends the moratorium on federal student loan payments for the final time through Dec. 31, 2022. The Biden-Harris administration's plan is intended to erase student loan debt entirely for millions of Americans and eliminate at least half of this debt for millions more. It also caps payments of undergraduate federal loans at 5% of borrowers' monthly incomes—half the rate most borrowers now pay.
Additionally, the plan aims to fix the Public Service Loan Forgiveness program by proposing a rule that borrowers who have worked at a nonprofit, in the military, or in federal, state, tribal or local governments receive appropriate credit toward loan forgiveness. This program is designed to forgive the remaining balance of direct loans for individuals working in public service after making 120 qualifying monthly payments under a qualifying repayment plan.
The White House reports that student loan debt in the United States now totals $1.6 trillion, with approximately 45 million Americans carrying some student loan debt. The average undergraduate student graduates with approximately $25,000 in debt, according to a DOE analysis. Middle-class borrowers struggle with high monthly payments and ballooning balances, making it difficult to build wealth. However, student loans have an impact on all income classes
According to the announcement, the Biden-Harris administration's plan takes steps to reduce the cost of college education for students and their families and holds institutions accountable for rising costs, especially when failing to deliver good outcomes to students. The DOE has reestablished the Office of Federal Student Aid's enforcement unit and will propose reinstating and improving a rule to hold career programs accountable for leaving graduates with unaffordable debt.
This article provides answers to some commonly asked questions about the federal student loan debt forgiveness plan. The information contained in this article is compiled from the Biden-Harris administration and the DOE.
FAQ
Am I eligible for federal student loan forgiveness?
You are eligible for federal student loan forgiveness if you have federal student loans and earn less than $125,000 annually or $250,000 per married couple or head of household. If you meet these criteria, you are eligible for up to $10,000 in debt cancellation. Pell Grant recipients are eligible for up to $20,000 in debt cancellation if they meet the income thresholds. Income thresholds are based on your 2020 or 2021 tax returns.
What does "up to" mean?
This means your debt relief is capped at the amount of your outstanding debt. For example, if you're eligible for $10,000 in debt relief but have a federal student loan balance of $5,000, you will only receive $5,000 in debt forgiveness.
What types of student loans qualify?
Most types of federal undergraduate and graduate student loans qualify for debt cancellation, including direct subsidized, direct unsubsidized, graduate PLUS, parent PLUS and consolidated loans. For consolidated loans to qualify, the underlying loans must be disbursed on or before June 30, 2022. Federal Family Education (FFEL) loans and Perkins loans qualify if they are held by the DOE; however, if they are not held by the federal government, these loans may qualify if they are eligible for the federal student loan payment moratorium that has been in effect since March 2020. Private student loans are not eligible for forgiveness.
How do I know if I received a Pell Grant?
Log into your Federal Student Aid account to verify if you received a Pell Grant. Simply check your account's "My Aid" page, which will display any Pell Grants. Pell Grant recipients qualify for up to $20,000 of debt cancellation regardless of the size or frequency of their Pell Grants.
Am I still eligible for student loan forgiveness if I never graduated or if I am still in school?
Yes. If you did not finish your degree or are still in school, you qualify for loan forgiveness as long as your student loans were disbursed by June 30, 2022.
Am I still eligible if I did not use my student loans for a bachelor's degree?
Maybe. If you used federal student loans to pay for a trade program, professional degree, alternative certification or community college, you are eligible for debt cancellation under the plan.
Am I still eligible if my student loans are in default?
.. Maybe. If your federal student loans are currently in default, you can likely qualify for loan forgiveness if debt collection activities on your defaulted loans stopped during the federal student loan payment moratorium, which has been in effect since March 2020.
Are FFELs eligible?
Again… Maybe. If FFEL loans were eligible for the moratorium on student loan payments that has been in effect since March 2020, you could qualify for debt forgiveness. If you were not eligible for the moratorium, you might still qualify for forgiveness if you take additional steps. By consolidating FFEL loans into direct consolidation loans, your federal student loan debt can be eligible for forgiveness.
Approximately half of all FFEL loans are currently held by private lenders. The DOE is working with those private lenders to include FFEL loans in the Biden administration's forgiveness plan. The DOE will provide additional information regarding FFEL loans in the near future.
Are federal student loans payments still frozen?
Yes. According to the DOE, the moratorium on federal student loan payments has been extended a final time through Dec. 31, 2022. After this date, you will need to resume monthly payments on your federal student loans.
Do I have to apply for federal student loan forgiveness?
Maybe. Some borrowers' student loan debt will be forgiven automatically because the DOE already has their income information. All other borrowers will have to submit their income information to the DOE via an online application. The online application will be available by early October 2022, according to the DOE. Once borrowers submit their applications, debt cancellation will occur within four to six weeks. Borrowers will have until Dec. 31, 2023, to submit their applications.
The DOE encourages all eligible borrowers to file an online application before Nov. 15, 2022, to receive debt relief before the moratorium expires on Dec. 31, 2022. You can sign up to receive a notification when the application is open on the DOE's subscription page.
How will I know my federal student loans are forgiven?
Your student loan servicer will likely provide you with an update once your debt is canceled. Your loan servicer may contact you by regular mail and email. You are encouraged to regularly check your student loan balance on your loan servicer's website.
If I owe more than is forgiven, will my monthly payments be adjusted after my debt is forgiven?
Most likely. Your loan servicer will likely recalculate your monthly payments after your student loan debt is forgiven. For individuals who decide to transition to the new income-driven repayment plan, which caps payments at 5% of an individual's discretionary income, loan servicers will likely have to recalculate monthly payments.
Will I be taxed on the amount of my federal student loans that is forgiven?
Maybe. Student loan forgiveness will not be subject to federal taxes through 2025. Most states have announced that forgiven student loans will not be taxed; however, in some states, the relief will be subject to state income taxes.
Will my federal student loans really be forgiven?
There are unresolved questions regarding the DOE's authority to cancel student loan debt. Consequently, the Biden-Harris administration's plan is likely to face legal challenges. Borrowers should visit the DOE's website for more information or sign up to receive email updates to receive the latest information.
Summary
Uncertainty is in the air. The DOE will announce further details on how borrowers can claim debt relief in the weeks ahead. The Biden-Harris administration's plan will likely face legal challenges, as there are unresolved questions regarding the DOE's authority to cancel student loan debt. As such, the timing of any debt relief may be uncertain, but you can prepare now by logging into your StudentAid.gov account and updating your contact information. If you don't have a StudentAid.gov account, you can create one. You can also ensure that your loan servicer has your most current contact information.
If you have any questions, please feel free to get in touch with us!  If we can't get you an answer, we'll point you in the right direction!